EU vs Apple: A fair whack or a made up number?
Comments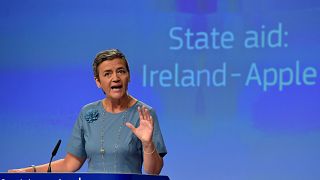 The European Commission's demand that Ireland collect €13 billion in back taxes from Ireland has polarised opinion.
Some say the company acted illegally and immorally, others that it was simply doing business while creating jobs in Ireland.
0.005%:
Irish tax rulings to Apple are illegal state aid. Effective taxation as low as 0,005 pct. #Apple has to repay up to €13 billion unpaid tax.

— Margrethe Vestager (@vestager) August 30, 2016
Laws that never existed
"Every company in Ireland and across Europe is suddenly at risk of being subjected to taxes under laws that never existed." — tim_cook</a></p>&mdash; Jay Yarow (jyarow) August 30, 2016
No employees
Apple's "so-called head office" in Ireland had "no employees, no premises, and no real activities," EC says https://t.co/EGgA1D08NY

— Francis Whittaker (@frittaker) August 30, 2016
Acceptable?
The killer line. I look forward to Apple explaining how this is acceptable. pic.twitter.com/WAOMuG4clN

— Jo Maugham QC (@JolyonMaugham) August 30, 2016
Not many
Apple has 22000 employees in Europe. Considering the size of the firm, and its profits in Europe, that's not many. https://t.co/MDi06vtyfE

— Jon Worth (@jonworth) August 30, 2016
Made up?
Apple CFO Says Irish Tax Fine Is a 'Completely Made Up Number'. So just like most economic data

— zerohedge (@zerohedge) August 30, 2016
From a UK MP
You know, if Apple wanted to locate to the post Brexit UK, we sld help them make the move …..

— Douglas Carswell MP (@DouglasCarswell) August 30, 2016
From the Turkish deputy prime minister
Apple should move to Turkey. Happy to provide more generous tax incentives. Won't have to deal with EU bureaucracyhttps://t.co/9ceOnauGi0

— Mehmet Simsek (@memetsimsek) August 30, 2016
How many more?
More than a few bad apples! How many more tax scandals before governments end tax dodging? #Apple#LuxLeakshttps://t.co/OsHlZMxtAM

— Oxfam International (@Oxfam) August 30, 2016
Doomed to lose
4. But so long as there is free movement of capital around world (cf Bretton Woods) govts are doomed to keep on losing the battle #Appletax

— Ed Conway (@EdConwaySky) August 30, 2016
Fair whack
Hurrah! for the EU. Love Apple gear but like Google, Facebook, Amazon, etc it must pay a fair whack in tax https://t.co/ofe5vB3jUc

— Kevin Maguire (@Kevin_Maguire) August 30, 2016