The European Commission has taken ordered tech giant Apple to pay up to 13 billion euros in back taxes to the Irish government in Dublin.
The European Commission has taken a big bite out of Apple.
As far as I am concerned there is no economic basis for this decision

Irish finance minister
The tech giant has been ordered to pay up to 13 billion euros in back taxes to the Irish government in Dublin.
The EU accused Apple, which employs thousands of people in Ireland, of benefiting unfairly from special arrangements with the country that allowed it to keep its tax bills there to a minimum. The EC ruled the scheme, which saw profits routed through Ireland, was illegal state aid.
Competition Commissioner Margrethe Vestager explained: "We see these 13 billion euros as unpaid taxes that due to Irish tax rulings allowed Apple to put a lot of their profits in a head office that only existed on paper, a head office that was not to be taxed due to Irish legislation. And that is a very selective benefit to a company and that is not allowed in the EU."
As a result, the bloc slapped Europe's biggest ever tax penalty on Apple.
The tech giant paid a tax rate on European profits of between 0.005 and 1 percent, the Commission said.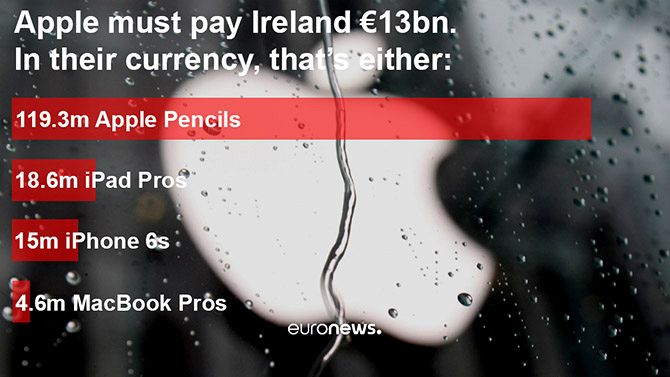 "Bizarre"
Ireland's finance minister Michael Noonan denounced the order from Brussels: "As far as I am concerned there is no economic basis for this decision. It's bizarre and it's an exercise in politics by the Competition Commission."
He told state broadcaster RTE: "They don't have responsibility for taxes and they are opening a back door through state aid to influence tax policy in European countries when the European treaties say tax policy is a matter for sovereign governments," he added.
Ireland's low corporate tax rate has been a cornerstone of economic policy for 20 years, drawing investors from major multinational companies whose staff account for almost one in 10 workers in the country.
Both Apple and Ireland deny any wrongdoing and have said they will appeal against the decision.
"No basis in fact or in law"
In a letter to customers Apple's chief executive Tim Cook said: "The European Commission has launched an effort to rewrite Apple's history in Europe, ignore Ireland's tax laws and upend the international tax system in the process. The opinion issued on August 30th alleges that Ireland gave Apple a special deal on our taxes."
"This claim has no basis in fact or in law. We never asked for, nor did we receive, any special deals. We now find ourselves in the unusual position of being ordered to retroactively pay additional taxes to a government that says we don't owe them any more than we've already paid."
The bill is far more than the 30 million euros each the European Commission previously ordered Dutch authorities to recover from US coffee chain Starbucks and Luxembourg from Fiat-Chrysler for their tax deals.
Both companies and countries have appealed against those decisions.
US disappointed
The US government has also weighed into the row, previously accusing the European Commission of deliberately targeting American firms – something Brussels denies.
On Tuesday a US Treasury official would not comment specifically on the Apple case, but said Washington is disappointed that the EU Commission has acted unilaterally.
"The Commission's actions could threaten to undermine foreign investment, the business climate in Europe, and the important spirit of economic partnership between the US and the EU," the spokesperson said.
A huge tax bill is likely to make all the wrong headlines ahead of early September's expected unveiling of Apple's latest iPhone.
Apple faces massive Irish tax bill https://t.co/KUFdwPL035

— EUobserver (@euobs) August 30, 2016