'Willy Wonka' star Gene Wilder dies aged 83
Comments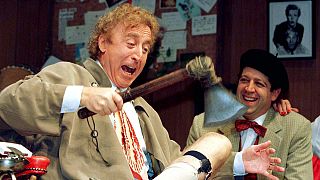 Actor Gene Wilder – best known for his role in the film "Willy Wonka and the Chocolate Factory" – has died, aged 83, according to a family statement.
He also made comedic star turns in the likes of "Blazing Saddles" and "Young Frankenstein." His collaborations with Director Mel Brooks and actor Richard Prior produced some of the most memorable comic scenes in modern cinema.
Wilder, an often frantic presence in some of the funniest movies of the 1970s and 80s with his kinky curls and startled blue eyes, succumbed to complications from Alzheimer's disease – which he had battled privately for the past three years.
After announcing his death, his family said the actor had chosen to keep his illness secret so that children who knew him as Willy Wonka would not equate the whimsical character with an adult disease.
Social media tributes
Gene Wilder was a legend, RIP. pic.twitter.com/xG5XlHzVLA

— Joshua (@NvJoshua) 29 August 2016
Rest in Peace, one of the greatest actors ever, #GeneWilder :/ pic.twitter.com/c3YQHwGZC0

— Tilmen knows stuff (@TiLMEN) 29 August 2016
UPDATE: #MelBrooks says #GeneWilder 'blessed every film we did with his magic' https://t.co/mQ1RbOCykM

— AP Entertainment (@APEntertainment) 29 August 2016
Sad news. #WillyWonka is one of my favorites and 99% of the reason is because of Gene Wilder's epic performance. RIPpic.twitter.com/VhHIhfhnvb

— Chris Callahan (@rgb_alpha) 29 August 2016