Turkish-backed campaign in northern Syria 'unacceptable and of deep concern' says US
Comments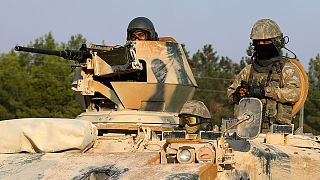 The Turkish-backed military campaign in northern Syria has drawn condemnation from the US, which is supporting some Kurdish forces in the region.
Ground troops entered the town of Jarablus from Turkey last week, in an operation reportedly intended to wipe out ISIL from the surrounding area.
The US provided aerial support for the initial push.
However, the campaign has since seen clashes between the forces entering from Turkey and Kurds in the north of Syria, provoking the wrath of the US's Special Envoy for the Coalition to Counter ISIL.
DOD: We want to make clear that we find these clashes -- in areas where #ISIL is not located -- unacceptable and a source of deep concern.

— Brett McGurk (@brett_mcgurk) August 29, 2016
The Washington-backed Kurdish SDF (Syrian Democratic Forces) alliance has announced its withdrawal south in the wake of a reported 61 Ankara-ordered artillery strikes around Jarablus in 24 hours.
The coalition includes Syrian Kurdish YPG militia; a group Turkish officials consider a terrorist organisation. They say the YPG has links with the outlawed Kurdistan Workers' Party, based in the south of Turkey.
Mevlüt Çavuşoğlu, Turkey's Foreign Minister claims the YPG is engaged in ethnic cleansing.
However, the group denies playing a part in any action in Jarablus or further south in Manbij, including reported military build-ups. It insists it has withdrawn east, as requested by both US and Turkish forces.