Turkey accuses Kurdish YPG of 'ethnic cleansing' in Syria
Comments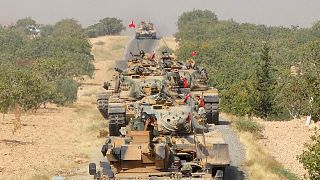 A military build-up is being reported in Manbij and Jarablus in northern Syria.
The Kurdish YPG militia denies it is involved. But Turkey claims the YPG is putting its own people in, accusing it of ethnic cleansing.
The accusation came from Turkish Foreign Minister Mevlut Cavusoglu who said the aim of a Turkey-backed operation by Syrian rebels around the towns of Jarablus and Manbij was to drive out ISIL and that the YPG should immediately move east of the Euphrates river.
YPG forces however insist that they have already withdrawn east of the Euphrates in line with US and Turkish demands, away from Jarablus and Manbij, both now liberated from ISIL.
Turkey is pushing ahead with its military operation in Syria which is as much about pushing away ISIL from the border as it is about preventing Kurdish forces from filling the void, fearing this would boost Kurdish rebels on its own soil.
As the death toll rises, with reports of civilian casualties, Turkey's NATO ally the US, which backs the YPG, called on all armed actors in the fighting to stand down and focus on battling the so-called Islamic State group.
US says clashes between Turkish forces and opposition in Syria 'unacceptable' https://t.co/47o5PNLBoIpic.twitter.com/xcoH8ZomQT

— Hürriyet Daily News (@HDNER) 29 août 2016
Writing on Twitter, Brett McGurk, US President Barack Obama's special envoy in the fight against ISIL, was scathing about the clashes.
DOD: We want to make clear that we find these clashes -- in areas where #ISIL is not located -- unacceptable and a source of deep concern.

— Brett McGurk (@brett_mcgurk) 29 août 2016
DOD: Accordingly, we call on all armed actors to stand down and take appropriate measures to deconflict & open channels of communication.

— Brett McGurk (@brett_mcgurk) 29 août 2016
DOD: The US is actively engaged to facilitate such deconfliction and unity of focus on #ISIL, which remains a lethal and common threat.

— Brett McGurk (@brett_mcgurk) 29 août 2016