French presidential contenders take aim at Burkini ban
Comments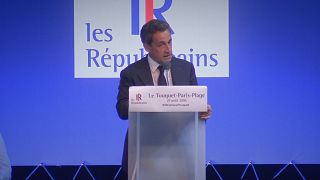 An item of swim wear has become a defining issue in the early days of the race for the French presidency.
Despite the high court's (Conseil d'Etat) decision to overturn a ban on burkinis, former leader Nicolas Sarkozy has called for the outfit to be forbidden nationwide.
As he kicked off his comeback campaign for the Republicain party, he told reporters that rise of young women wearing burkinis on certain beaches in France can be stopped if the country is firm. This he said, means a law must be introduced to ban burkinis covering all of the beaches and swimming pools in France.
Battling Sarkozy for the Republicain party nomination, Alain Juppe said he is opposed to a 'law of circumstance driven by media controversies'.
He told a rally, "Let's unite, rather than divide, unite rather than exclude or stigmatise, unite rather than indulge in one-upmanship."
In the latest polls Juppe is leading against Sarkozy by 14%.
The row centres on France's secular principles, but the debate appears to have been hijacked for political gain. Socialist politician Christine Taubira said it will leave 'a scar on French society', adding that the court's ruling should stop others from pouring oil on the fire.