Eight soldiers killed in Paraguay by suspected rebel group
Comments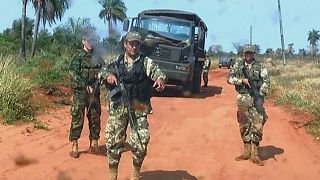 Eight soldiers have been killed in Paraguay after their squad was ambushed.
The joint military-police force was patrolling near the Brazilian border against guerrillas from the Paraguayan People's Army (EPP), a rebel group with suspected links to drug trafficking and a reputation for kidnappings.
The EPP is suspected to have carried out the attack.
"The Joint Task Force was organized and deployed to fulfill a mission – to bring peace to the area and fairly, there are many questions about the results," said former Armed Forces Commander General Alfredo Machuca. "But you have to keep in mind that a subversive element is being fought against."
Interior Minister Francisco de Vargas told a local radio station that the manner of the attack – explosive artifacts by a road – was typical of the EPP. "It is very probable that that is what happened," he said.
The EPP has been blamed by authorities for a string of kidnappings, murders and attacks in the remote north of Paraguay.
In 2013 it carried out an attack in which five people died, its bloodiest to date.
The EPP is loosely modeled on the Revolutionary Armed Forces of Colombia (FARC) which has recently agreed to lay down its arms after half a century of war.