Malaysian protesters call for PM's arrest
Comments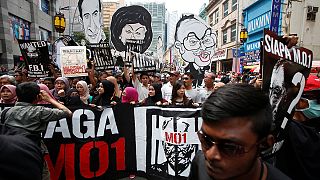 Students and anti-corruption activists in Malaysia have taken to the streets of the capital Kuala Lumpur calling for the arrest of Prime Minister Najib Razak.
It comes after he was implicated in a US government investigation into massive fraud at a Malaysian investment fund.
Some 3.5 billion dollars is believed to have been siphoned off from the fund founded by Najib.
Nearly a thousand protesters rallied in defiance of a police ban.
"We want an official investigation, and we know we need one and it's been going on for too long. We want the person involved in this blatant robbery to step down and taken to jail and… for justice served, that's why," one demonstrator said.
Opposition parties and civil society groups, including democracy watchdog Bersih 2.0, voiced support for Saturday's student protest.
Maria Chin, the Chairman of Bersih 2.0 said: "I don't think that nothing has changed. If you say that you want change immediately it doesn't happen. So let us not kid ourselves that change is going to happen just like that. I think the change is that you see so many Malaysians around here."
US officials say 700 million dollars of the stolen money landed in unnamed government official's bank account.
Despite accusations of being that official, Najib has strenuously denied any wrong doing.