Turkey: car bomb targeting Cizre police HQ kills at least 11 people
Comments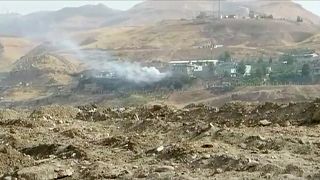 A car bomb attack on a police headquaters in the Turkish town of Cizre has killed at least 11 people.
Cizre is in the southeastern city of Sirnak which borders both Iraq and Syria.
There was no immediate claim of responsibility for the blast, but Turkey's state run Anadolu Agency blamed the attack on the outlawed Kurdistan Workers Party (PKK), according to the Reuters news agency.
The majority Kurdish southeast has been rocked by violence since a ceasefire between the Turkish government and the PKK collapsed last year.
The PKK has been waging a insurgency against the Turkish state to push for autonomy in the southeast of the country.
Friday's (August 26) blast comes two days after US-backed Turkish special forces launched an incursion into Syria.
Turkish President Recep Tayyip Erdogan said the operation is aimed at driving fighters from so-called Islamic State away from the border area and preventing territorial gains by the Kurdish People's Protection Units (YPG).