Turkey: car bomb attack on Cizre police building kills at least 8 people
Comments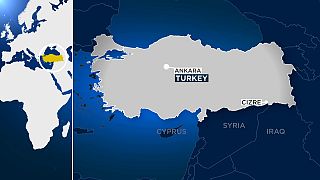 A car bomb attack on a police headquaters in the Turkish city of Cizre has killed at least nine people.
Cizre is in the southeastern province of Sirnak which borders both Iraq and Syria.
The majority Kurdish southeast has been rocked by violence since a ceasefire between the Turkish government and the outlawed Kurdistan Workers' Party (PKK) collapsed last year.
The PKK have been waging a insurgency against the Turkish state to push for autonomy in the southeast of the country.
Turkish special forces, tanks and warplanes launched their first major incursion into Syria on Wednesday in support of Syrian rebels, in an operation President Tayyip Erdogan has said is aimed both at driving so-called Islamic State away from the border area and preventing territorial gains by the Kurdish People's Protection Units (YPG).
Turkey views the YPG as an extension of the PKK, which is listed as a terrorist organisation by Turkey, the United States and the European Union. More than 40,000 people, mostly Kurds, have died since the rebels took up arms in Turkey in 1984.
Turkish troops fired on YPG fighters in northern Syria on Thursday.
Also on Thursday, Interior Minister Efkan Ala accused the PKK of attacking a convoy carrying the country's main opposition party leader, Kemal Kilicdaroglu.
The government has blamed the PKK for a series of attacks this month in the southeast. The group has claimed responsibility for at least one attack on a police station.
Car bomb explodes 50 meters from police station in #Cizre#Turkeypic.twitter.com/2AGy1L2HzS

— Ahmed Shihab-Eldin (@ASE) August 26, 2016