Zimbabwe minister says illegal protesters will face full wrath of the law
Comments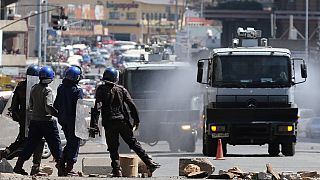 Zimbabwe's home affairs minister, Ignatius Chombo, has warned opposition parties who plan to hold a protest on Friday calling for electoral reforms that any unsanctioned protests would not be tolerated by the government.
We cannot sit idly while our country is being torn apart by unruly foreign-sponsored agents.
The coalition of opposition parties under the banner of the National Election Reform Agenda (NERA) have gone to court to seek clearance to demonstrate after police asked them to withhold the protest. The court is set to deliver its ruling on Friday morning.
According to NERA, it was not comfortable with the existing electoral laws and wanted to lobby the electoral body through its demonstration. Despite the pending court ruling, members of opposition insist that the protest will still go ahead.
The High Court has left tomorrow's protest march in a quandary. The judge will hear the case at 8am and then what? Utterly unpredictable.

— Brezh Malaba (@BrezhMalaba) August 25, 2016
But addressing the media in the capital Harare, the home affairs minister said, ''In light of these disturbances, I wish to remind Zimbabweans that the security ministries are mandated to maintain law and order and to protect life and property.''
He made reference to clashes between police and protesters during a mid week march in the capital stating that it had disrupted business and free movement and the attendant destruction of property was a violation of the democratic rights of others.
He reiterated that the recent agitations were orchestrated by wesetrn powers and that the government was going to resist any international intervention in the affairs of the country. ''We cannot sit idly while our country is being torn apart by unruly foreign-sponsored agents,'' he charged.
Zimbabwe's challenges: Persistent protests and economic challenges
Since June this year, Zimbabwe has experienced a series of protests against the economic policies of the government. The country is experiencing serious shortages especially the United States dollar.
The government have been unable to pay civil servants as scheduled in the past two months. Social media activists described as 'cyber terrorists' have succeeded in organizing protests that have often been broken up by police using batons and tear gas.
The Zimbabwean government says it is drafting a law to penalize "abusive" usage of social media with five-year jail terms.