Tributes as France's 'Queen of Knitwear' Sonia Rykiel dies at 86
Comments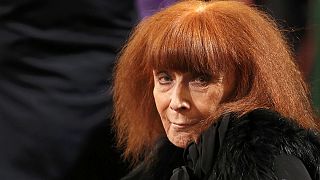 French fashion designer Sonia Rykiel, known for her brightly coloured striped sweater dresses, has died aged 86.
"It is a sad day but Sonia Rykiel leaves behind her an extraordinary legacy," said Jean-Marc Loubier, chairman and chief executive of First Heritage Brands, the parent company of the Sonia Rykiel label.
"She was a pioneer who helped women and society evolve."
Rykiel founded her fashion house in 1968, when France was rocked by violent student riots, with the aim of creating a counter-culture to stiff, bourgeois dress codes with inside-out stitches and extra-short skirts.
Today's News: The inimitable Sonia Rykiel has died: https://t.co/F4VHedVTVgpic.twitter.com/JRoACC0Woz

— VOGUE.CO.UK (@BritishVogue) August 25, 2016
"She had invented not only a style but an attitude, a way of life and gave women freedom of movement," French President Francois Hollande's office said in a statement.
"I convey my sincere condolences to her children Nathalie and Jean-Philippe and their family and close ones, who are in pain."
On Twitter, Hollande paid tribute to Rykiel as a 'pioneer'.
Sonia RYKIEL était une femme libre, une pionnière. Son style restera le symbole de l'alliance entre couleur et naturel, fluidité et lumière.

— François Hollande (@fhollande) 25 août 2016
Born in 1930, Rykiel was one of the first designers to create tightly fitting sweater dresses that revealed women's body contours. Early adopters of her style included actress Brigitte Bardot, Catherine Deneuve and Audrey Hepburn.
In 1995, she passed on the creative and management leadership to her daughter Nathalie, just around the time she was diagnosed with Parkinson's disease.
Rykiel wrote about her life and her illness in a book she published in 2012 in collaboration with journalist Judith Perrignon called 'N'oubliez Pas Que Je Joue' ('Don't Forget That I am Acting').
Paying tribute, fellow French fashion designer Jean-Paul Gaultier called her work 'revolutionary'.
All my admiration for the revolutionary work that you gave to women. Thank you for the inspiration and style. pic.twitter.com/bgbXbzKAfc

— Jean Paul Gaultier (@JPGaultier) 25 août 2016