Don't be shy! Animals lured onto scales for annual weigh-in at London Zoo
Comments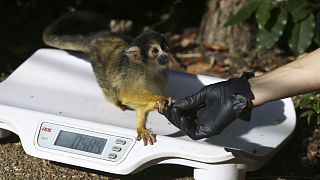 Here is a question for you – how do you weigh and measure more than 18,000 wild animals? Carefully, and with tricks and treats.
It is annual health check time for the residents of London Zoo.
They may look cute, but getting the zoo's smaller animals onto the scales is no easy feat.
"The hardest animals would be any social species like squirrel monkeys or meerkats because each of those animals is competing for the same space," explained London Zoo's Mark Habben.
"Rather than having one animal on the scale at the same time, you can end up with five of them so that's really tricky and challenging. Whereas species like the lions and tigers are actually quite a lot easier because only one of them can fit on the scales at any one time."
It is all about making sure the animals are in tip top condition, not gobbling all the food and piling on the pounds.
The London attraction shares data on its residents with other zoos to form a global database of wild animals in captivity.
Can you guess the weight of the animals? Try our quiz