Brazil: Rousseff's impeachment trial due to open
Comments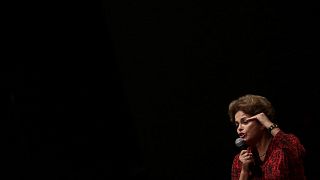 Brazil's Senate is due to open the impeachment trial of suspended president Dilma Rousseff, who is facing charges of breaking budget laws.
Opponents are confident they have more than the 54 votes needed to convict her.
She describes the efforts to oust her as a "coup."
"I never received money through corruption," Rousseff told supporters.
"My presence (in the Senate) clearly shows that there is a democratic breakout in Brazil and that's important for all Brazilians, for the entire world, to prevent this from happening again."
A poll published by O Globo newspaper showed that 51 senators were committed to voting to dismiss Rousseff, with only 19 supporting her and 11 undecided.
If Rousseff is removed, her vice president, Michel Temer, would be confirmed as Brazil's new leader for the rest of her term, through to 2018.
It would also end 13 years of left-wing Workers Party rule.
Temer's right-leaning government has held last-minute talks with senators and political parties to shore up votes against Rousseff.
The final vote is due late on Tuesday or early Wednesday.