American goalkeeper Hope Solo handed six-month ban
Comments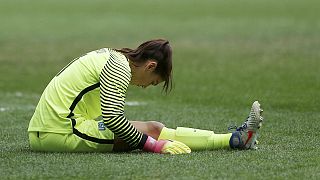 American goalkeeper Hope Solo has been given a six-month ban from internationals on Wednesday after she branded opponents Sweden "a bunch of cowards" at this month's Rio Olympics.
The 35-year-old, who said she was "saddened" by the decision in a statement on her Facebook page, made the remarks after her side lost 5-4 on penalties to the Swedes in the quarter-finals.
As a result of her suspension, Solo will not be eligible for selection to the national team until February.
Hope Solo's response to SI on her suspension. pic.twitter.com/Y5E5KcrECo

— Grant Wahl (@GrantWahl) August 25, 2016