Airlander 10, world's largest aircraft, damaged during test flight
Comments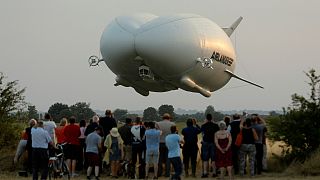 The world's largest aircraft, the Airlander 10, has sustained damage during its second test flight in central England.
The aircraft, which is 92 metres long, appears to have nose-dived upon landing, hitting the ground and damaging the cockpit.
Hybrid Air Vehicles (HAV), the manufacturer of the helium-filled airship said no-one was injured.
Airlander 10 was originally developed for the US government as a spy aircraft but HAV are hoping to develop the hybrid aeroplane and airship for commercial purposes such as freight, aid distribution, surveillance and even passenger transport. It is expected to be able to fly for weeks at a time and take off or land anywhere.
HAV told Reuters in March that it was aiming to build 12 airships a year by 2018.