Turkey bombards ISIL positions in northern Syria
Comments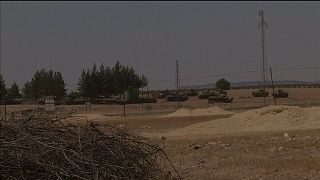 Turkey has bombarded ISIL and Kurdish militia positions in northern Syria, following a wedding suicide bombing which killed more than 50 people.
Although it is still not clear who was responsible for the massacre Ankara has vowed to cleanse ISIL from its border region.
Syrian Kurdish YPG forces are being targeted as Turkey views the YPG as an extension of the Kurdistan Workers Party (PKK), a Turkish-Kurdish rebel group fighting for autonomy within Turkey since the 1980s.
The shelling is being directed at ISIL-held Jarablus and Manbij which was recently liberated from militant Islamist control by Syrian Kurdish forces.
Amateur video has been published on social media purporting to show around 1,500 Turkish-backed Syrian rebels massing in the Turkish border town of Gaziantep, scene of Saturday's deadly wedding attack.
Syrian rebels in Turkey prepare to attack Islamic State border town https://t.co/sPKc8oHAAspic.twitter.com/lBPwlXjY3I

— Middle East Eye (@MiddleEastEye) August 23, 2016
The rebels are thought to have been preparing for some time for a ground offensive against Jarablus – which some analysts say may have triggered the wedding bombing.