Sweden grenade attack kills schoolboy - was it gang related?
Comments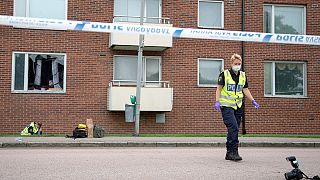 Police think a grenade attack in Sweden – which killed an eight-year-old boy – could be linked to a gang-related conflict.
Yuusuf Warsame, from Birmingham in the UK, died when a hand grenade was thrown through the window of an apartment in Gothenburg, where he is understood to have been visiting relatives.
"Now it has gone too far. Why? This is enough, really. We want children to be outside without being worried," commented one woman in Gothenburg.
Police are focusing on the theory that it could be linked to a restaurant shooting in the same area last year.
Two men were killed and eight injured in a gang-related feud.
One of those convicted is registered at the same address as the grenade attack.
"At some point this must end, and we hope that the public thinks this is as disgusting as I think it is," said Thomas Fuxborg, a police spokesman.
"I hope those who have knowledge and awareness of what happened, tells us who is behind this – so that we can arrest the perpetrators and the violence does not escalate further."