The Olympic Spirit: sometimes winning is not about medals
Comments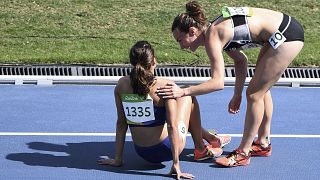 New Zealand's Nikki Hamblin was praised for embodying the Olympic spirit when she stopped to help US runner Abbey D'Agostino during their 5,000m race at the Rio Games.
A bunching-up in the pack causes the Kiwi to fall, which resulted in fellow athlete Abbey D'Agostino also hitting the deck. The American gets to her feet first and helps Hamblin. She then realises that her ankle is twisted and then Hamblin in turns offers a helping hand.
While neither athlete qualified for the final they won many hearts and minds.
Sometimes the most inspirational moments don't involve medals at all… #GoGirlNikkiHamblin</a> <a href="https://twitter.com/abbey_dags">abbey_dags#Rio2016https://t.co/bGVWUUpFxH

— Women in Sport (@Womeninsport_uk) 16 August 2016
I get knocked down, but I get up again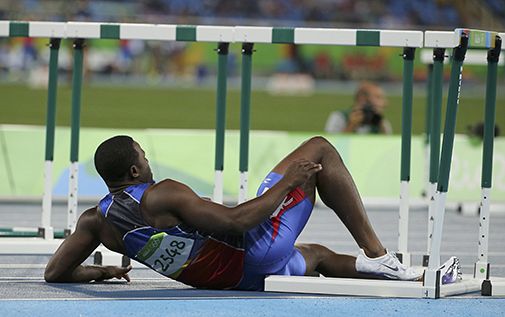 Jeffrey Julmis showed a lot of confidence at the start line only to take a tumble at the first hurdle. But fair play to the Haitian, he picked himself up, dusted himself down and finished the race in 25.56. While not a personal best, his endeavours showed guts and determination.
North and South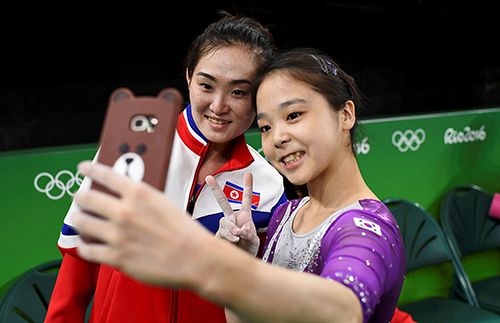 They come from across the divide. Their countries remain in a state of war and are so near but yet so far apart. So when Lee Eun-Ju, pictured right, took a selfie with Hong Un Jong from North Korea, many hailed this as a true act of friendship.
Katie Ledecky and Michael Phelps
What a difference 10 years can make. The pair took time out to recreate a photo that was taken when Ledecky was nine years old. Then it was the young swimmer asking Phelps for his autograph. This time Ledecky was doing the signing.
A lot can change in 10 years! katieledecky</a> with <a href="https://twitter.com/MichaelPhelps">MichaelPhelps in 2006 and today in Rio! #Rio2016#RioTODAYpic.twitter.com/cYwUyz3PZO

—

TODAY

(@TODAYshow) August 15, 2016
An Olympic proposal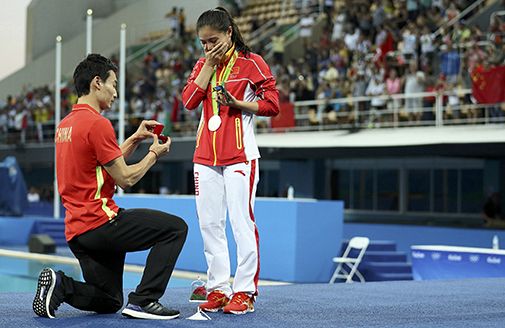 He Zi of China received a marriage proposal from Olympic diver Qin Kai of China after the medal ceremony. Just after winning a silver in the three-metre springboard platform she gained gold in the form of a ring after her fiancee proposed and she said yes.
Let's stay together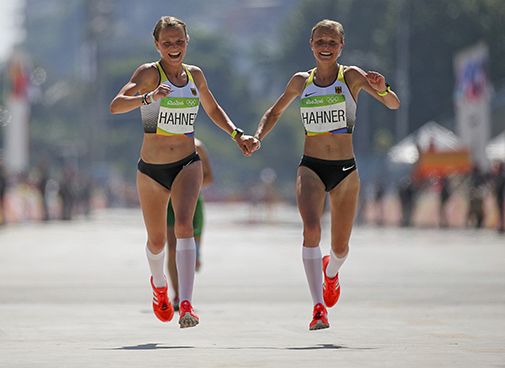 They started the race together and finished it in the same manner. But they were holding hands. Twin sisters Anna and Lisa Hahner finished 81st and 82nd in the marathon. They were criticised for not taking the race seriously. The sisters say their "magical moment" happened by chance. German officials accused them of treating the marathon like a fun run. The pair finished more than 15 minutes down on their respective personal best times.