Vandals release three saltwater crocodiles in Australia high school
Comments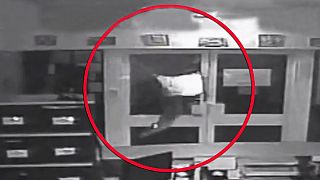 Police in Darwin, Australia, are looking for four men who have been caught on CCTV breaking into a local high school and releasing three live saltwater crocodiles.
The men can be seen smashing a window to gain access to the building's front office before slipping the creatures in through the same hole.
Alarms alerted the school's caretaker to the crime, which took place at 5 a.m.
Senior Constable David Gregory said of the incident: "CCTV footage shows three saltwater crocodiles forced into the main office. Police are appealing to the public for information as to the identity of the offenders."