Two Ukrainian soldiers killed on Donbass frontline, says Kyiv
Comments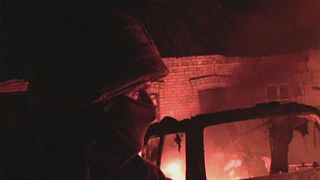 Ukraine's defence ministry says two soldiers were killed and eight wounded in a 24-hour period on the frontline of the war-torn Donbass region.
In the city of Maryinka, there are regular clashes between pro-Russian separatists and Ukrainian army troops.
Footage from the Ukrainian ministry purports to show the aftermath of shelling on the night of August 19.
One unidentified soldier in the footage said: "Sadly, they hit directly in the Hospitallers' [Ukrainian medical battalion] car. It caught fire and the flames spread to our car given to us by volunteers gave to help the guys. Now I have no idea how we will move around."
According to the self-proclaimed Donetsk People's Republic, over the past week, six people have been killed by Ukrainian armed forces, including five combatants.
.OSCE_SMM</a>: number of explosions recorded in <a href="https://twitter.com/hashtag/Donetsk?src=hash">#Donetsk</a> & <a href="https://twitter.com/hashtag/Luhansk?src=hash">#Luhansk</a> regions decreased compared to the previous day >> <a href="https://t.co/fgJXaJ62P9">https://t.co/fgJXaJ62P9</a></p>&mdash; OSCE (OSCE) August 20, 2016
---
The latest tension comes as Russia accused Ukraine of incursions into Crimea, the region it annexed after a referendum in 2014.
The Russian security agency has released video it says is of saboteurs who were entering the peninsula with explosives.
Ukraine denies Russia's assertions.
Military exercises
Meanwhile Russian naval and land forces have been taking part in military training exercises in Crimea.
Officials said they are rehearsing moving specialised troops, armour and technical equipment to Crimea.
Russia's defence ministry said the exercise foreshadows much larger war games there next month.