Taxify steals Uber's place on the rank in Budapest
Comments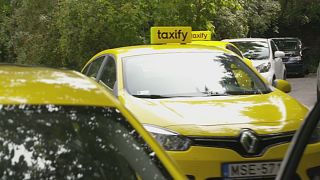 The Hungarian capital Budapest kicked US taxi app Uber out of its city in July, when it passed a new law denying Uber internet access. That meant that the company had to pull out, but an Estonian company has now rushed to plug the gap.
Taxify lets you hail taxis through an app based on GPS coordinates, as well as GPS tracking of the journey, and an easy and automatized payment system.
"The Taxify team was already thinking of coming to Budapest in 2014, but the best opportunity came after Uber stopped operating in Hungary. That's when the team saw the chance," says Operations Manager Dániel Cziráki.
In fact the system is much like Uber's except the drivers work for Taxify and drive company cars. The company also promises continual training and education for its drivers.
Uber was a big hit for the short time it was in Budapest. Will the newcomer be just as popular?
"It is innovative, young people really liked Uber and I do hope that they will like and chose this company for the same reasons," says driver Balázs Hudák.
Budapest's taxi drivers led the revolt against Uber beginning with mass protests in January and quickly found willing support from the nationalist government. Other places have reacted negatively to arrival of Uber, but few cities have gone as far as Budapest to ensure it goes away.
"Into the market gap left after Uber went away, as we see this company has entered first, and it is almost sure that it won't be the last," reports euronews' Andrea Hajagos.