Uber quits Hungary over new law
Comments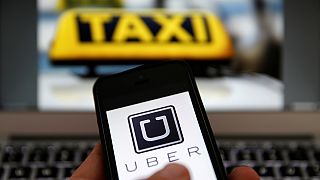 Uber is to stop all its operations in Hungary saying a new law makes it impossible to run the ride-hailing service there.
Under the law, Hungary's national communications authority can block internet access to what it deems "illegal dispatcher services".
The company's Central European Regional Manager, Rob Khazzam, told Euronews: "This is a unique decision. We've not been banned, but it has simply been made impossible for our partners to continue operating here, and unfortunately it has led us to reassess our business here."
Extremely sad and disappointed to have announced the suspension of uberX in Budapest today…

— robbie khazzam (@rkhazzam) July 13, 2016
Khazzam continued: "It's the same services that people are using and providing in 21 other EU member states, and it is just too hard to do it in Hungary today. We hope that changes and if it does, we'll definitely be the first back."
'They took the food from my child's mouth'
Uber's decision to quit delighted the country's taxi drivers, who have repeatedly demonstrated against the company since it set up there in November 2014.
One driver, Krisztián Kovács, said: "I am happy about it, they took the food from my child's mouth. They were operating in an incorrect, illegal way with very low prices, so it is not by accident that they will be disbanded or closed."
The Hungarian government said the legislation passed in June is to ensure Uber operates lawfully, competes fairly and pays taxes.
The company insisted that its drivers were professionally licensed and tax compliant.
In Budapest, e-commerce expert Egon Ervin Kis said he believes the new law will stifle innovation: "This is taking away from everybody the opportunity to use this kind of innovation to develop, for the taxi drivers to develop with it, along with the passengers. And if we want to come back to this kind of operation in a few years time, then the situation will be totally different, because e-commerce is changing really fast."
Uber will be gone from Hungary by July 24 when the new law comes into effect. It said it has 1,200 drivers in Hungary and 40 percent of its users are tourists.
Euronews correspondent in Budapest Andrea Hajagos concludes: "As a huge number of the passengers using Uber in Budapest were foreigners, an important question is what effect will this have on tourism."