Wildfire still raging out of control in Southern California
Comments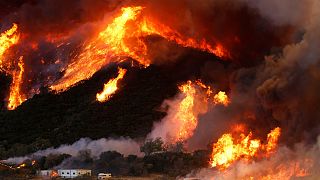 Dry, hot and windy conditions continue to drive a Southern California wildfire that has forced the evacuation of more than 80,000 people.
The Blue Cut Fire, named for a narrow gorge north of San Bernardino where it started, forced the closure for a while of part of a major highway connecting Los Angeles and Las Vegas.
Authorities have described the blaze as unusually fierce, even for a year of intense wildfires in the western United States following years of drought.
Wildfire Burns With Ferocity Never Seen By Fire Crews https://t.co/COCSDgR9E9#BlueCutFire#CAfire

— M. Reddy-Hjelmfelt (@TheRedElm) August 18, 2016
It is so hot that it is creating so-called 'fire tornadoes' which burn much faster than an open flame.
"Firenado" whips up smoke and flames as #BlueCutFire burns out of control. Live coverage: https://t.co/d7oozH75l0https://t.co/oZrrQcLhAe

—

NBC

Los Angeles (@NBCLA) August 17, 2016
So much smoke is rising from the blaze that it could be clearly seen from space by a NASA satellite passing over the area.
Columns of smoke from the #BlueCutFire east of Los Angeles are visible from space https://t.co/LRcXhRY0s3pic.twitter.com/kq0xLebVOa

— Los Angeles Times (@latimes) August 18, 2016
US government forecasters say the risk of major wildfires in Southern California will likely remain high until December, given the dryness and warm weather.
North of San Francisco, the so-called Clayton Fire is said to be 50 percent contained after charring nearly 4,000 acres in and around the community of Lower Lake and destroying 286 homes and other structures, according to the California Department of Forestry and Fire Protection.
A man has been arrested and charged with starting that blaze and more than a dozen others dating back to July 2015.
Damin Pashilk, a 40-year-old former construction worker, appeared in court on Wednesday and did not enter a plea. Bail was set at $5 million.
Damin Pashilk, 40, arrested on 17 counts of arson including #ClaytonFire, officials say https://t.co/gwrfvKGjzCpic.twitter.com/kXRsAl7WxW

— ABC7 Eyewitness News (@ABC7) August 16, 2016