French PM backs controversial burkini beach bans
Comments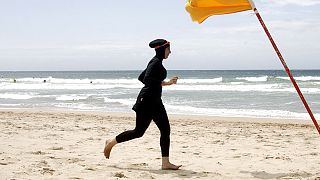 French Prime Minister Manuel Valls has thrown his support behind controversial burkini beach bans.
But speaking to newspaper La Provence, he ruled out legislating on the matter.
The mayors behind the municipal bans say the Muslim swimwear – which leaves only the face, hands and feet exposed – defies French laws on secularism.
It is a particularly sensitive issue in France, in the wake of deadly attacks by Islamist militants.
Mediterranean towns - including Cannes, Villeneuve Loubet and Sisco on the island of Corsica have barred the burkini – and Le Touquet is planning to do the same.
Prime Minister Manuel Valls says the burkini isn't in line with the values of France. pic.twitter.com/lVOtLLPSqR

— dpa international (@dpa_intl) 17 August 2016
While it defends the moves, the French government is calling on mayors to try and cool tensions between communities.
A group against Islamophobia has already said that it will challenge the burkini bans in the courts.
France, which has the largest Muslim minority in Europe, already forbids full-face niqab and burqa veils in public.