Zambia opposition contest re-election of President Lungu
Comments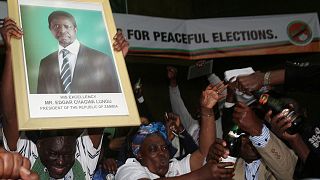 Zambian President Edgar Lungu has been narrowly re-elected according to official results published on Monday.
But its an outcome his rival is contesting calling the poll rigged.
We mean well and we shall not betray the people's trust

PF Secretary-General
According to the country's electoral commission Lungu and his Patriotic Front (PF) won 50.3% of the vote against 47.6 for his opponent Hakainde Hichilema.
This is what happened inside conference hall when ZambiaElections</a> declared Edgar Lungu president elect of Zambia <a href="https://t.co/m2D47RZtaF">pic.twitter.com/m2D47RZtaF</a></p>&mdash; Nomsa Maseko (nomsa_maseko) August 15, 2016
The opposition – the United Party for National Development (UPND ) – claim to have evidence, "to the effect that the votes for Hakainde Hichilema have been deliberately reduced in collusion with the Electoral Commission of Zambia."
The opposition is to to appeal the result with the Constitutional Court. But the accusation of fraud has been rejected by President Lungu.
"You can trust the government of President Edgar Lungu. We mean well and we shall not betray the people's trust," PF secretary-general Davis Chama said.
In the meantime there have been reports that police have been sent to the south of the country after disturbances broke out among Hichilema supporters.
Serious riot power outside Zambia election results Centre #sabcnews#ZambiaDecidespic.twitter.com/s8doSlMGpj

— Shingai Nyoka –

SABC

(@shingainyoka) August 14, 2016
The election in Africa's second-largest copper producer was fought over issues such as rising unemployment and power shortages amid an economic slump which the opposition has blamed on Lungu's mismanagement.
The election dispute, which could blight Zambia's reputation as one of the most stable democracies in Africa, could damage negotiations with the IMF.