Wildfire destroys scores of homes in Northern California
Comments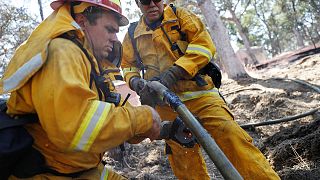 A wildfire which spread into a small Northern California town over the weekend has destroyed more than 175 homes and businesses.
The so-called Clayton fire, named after the creek near where it broke out, was driven by fierce winds into the community of Lower Lake, some 129 km north of San Francisco.
A damage assessment team is currently assessing how many structures have been lost.
My thoughts are with families and firefighters in Lake County who are again on the front lines of a huge blaze. https://t.co/TWo8OvtcHP

— Tom Steyer (@TomSteyer) August 15, 2016
What's left of Lower Lake Methodist Church. Pastor says it was cornerstone for community CBSSacramento</a> <a href="https://twitter.com/hashtag/ClaytonFire?src=hash">#ClaytonFire</a> <a href="https://t.co/01Mv69MPRA">pic.twitter.com/01Mv69MPRA</a></p>&mdash; Angela Musallam (AngelaNews) August 15, 2016
There have been no reports of casualties but at least 1500 people have been evacuated from the area.
The cause of the fire, which has blackened more than 3,000 acres (1214 Hectares) is under investigation.
It's one of 24 major wildfires burning across the drought-parched US West which have all together charred nearly 300,000 acres ( 121,405 Hectares).
The so-called Chimney fire, which erupted on Saturday afternoon in San Luis Obispo County, scorched more than 4,300 acres (1,740 Hectares) in less than 48 hours, destroying 20 buildings and threatening some 150 others.