Masked intruder attacks Swedish goalkeeper during top flight game
Comments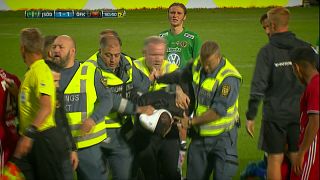 A masked intruder stormed onto the pitch during a Swedish topflight game and attacked one of the goalkeepers.
Ostersund' shotstopper Aly Keita was attacked from behind.
Players and security tackled what turned out to be a 17-year old male, who was then escorted away and arrested.
Keita meanwhile suffered minor injuries before being led off the pitch.
Ostersund were drawing 1-1 at Jonkoping Sodra at the time of the incident.
The match was abandoned.
The Swedish Football Association said it would decide whether to record the game as a draw or whether to awarded a 3-0 victory to Ostersund, if Jonkoping Sodra were found to have been at fault with their security measures.