Hungary's annual Sziget festival focuses on music and migration
Comments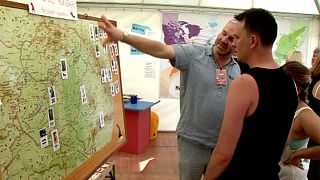 The annual Sziget festival which is also called the Island of Freedom is underway. Thousands have come to take part and enjoy the cultural and music fest. But this year the over-riding theme focuses on migration after last years refugee crisis.
In the exhibition called 'Tent without borders', organized by a French and Hungarian museum there is a collection of lost objects recovered from the Hungarian-Serbian border last year.
Everything on show has a personal story. They are also witness to what refugees brought with them and what they discarded.
"The exhibition shows objects found after the huge wave of refugees last year at the border villages of Roszke and Assotthalom. It makes people think about the objects that might be significant during a migration or an escape which are personal.
'Which are the objects they must take and which are those which they can leave when crossing a border," explained Hanna Foster from Museum of Ethnography Hungary.
At the exhibition people can leave messages to send to refugees on the big billboards or on smaller stickers left on people's tents.
"Better times are coming, stay strong"… is one such message.
Many people have left their tents at the end of the festival. This year Amnesty International expect around 4,000 to remain and to be offered to refugees by the human rights organisation.
"It is very important to get the attention of the visitors to the festival, that there are those in the world for whom living in a tent is not a temporary situation, it is not only for a few days and who are waiting for their safety again and to live in a dignified fashion as well," said Orsolya Jeney director, Amnesty International Hungary.
Euronews correspondent Andrea Hajagos reported from the festival.
"Those serious subjects are not the only aspect of the festival there is a lighter side as well. And there are some visitors who wanted to make sure they did not miss the Olympic Games."
So the sports fans are catered for as well and don't have to leave the island. Different nationalities mix in a tent showing the Games to cheer on their heroes.
"I think it is very cool the tent is here. If it wasn't I would go somewhere else to watch the action as I am so interested in the Games," enthused one Olympic supporter.
It is the biggest festival in central Europe and while it is a place to relax and have fun Sziget has not shied away from the issues which are challenging people in this region.