China launches first quantum satellite heralding the advent of 'hack free' communication
Comments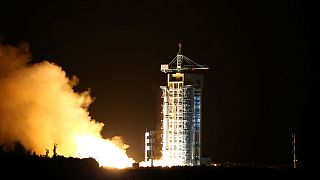 China has launched the very first quantum satellite developed by a team of Chinese and Austrian scientists.
The rocket took to the heavens from the Jiuquan Satellite Launch Centre in north west China.
China launches quantum-enabled satellite Micius https://t.co/Q4TNDXi5kgpic.twitter.com/bfdxfFCucw

—

BBC

Science News (@BBCScienceNews) August 16, 2016
Named after the ancient Chinese scientist and philosopher Micius the satellite heralds the advent of a new form of "hack proof" communications.
Bai Chunli is the President of the Chinese Academy of Scientists:"These experiments will test the competence of quantum physics in vast space and answer the questions Einstein posed about the quantum theory over 100 years ago. So it's of great significance in terms of both experiment and theory."
China launches 'unhackable' satellite that destroys messages when intercepted https://t.co/mfEJ4xoz9dpic.twitter.com/cCtfLKY9Hp

— Hindustan Times (@htTweets) August 16, 2016
Secure communications are essential and the quantum satellite will send messages to authorised ground bases, if the communication is intercepted while being transmitted the message bursts and the bases will see the changes in the particles.
Jorg Schmiedmayer is from the Institute of Atomic and Subatomic Physics at Vienna University of Technology:"I congratulate everybody on this wonderful achievement, to launch the first quantum satellite, and to help us develop new technologies, develop new knowledge. You know our society is completely based on these new developments. And for the good development for societies, we need everything that can help us."
The cost has been huge China is believed to have spent $101bn on the research phase alone.
If everything goes according to plan China intends to deploy a further 19 satellites to create a network that covers the whole planet.