Six dead in car bombing in southeast Turkey
Comments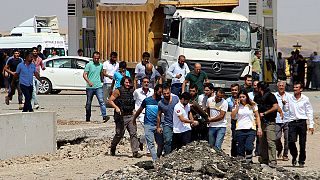 At least six people have died in a car bombing outside a police station in southeast Turkey.
Four police officers and two civilians were killed, including a young child. According to authorities twenty five people were wounded.
The explosion took place outside a traffic police centre on a busy road linking Diyabakir with the town of Batman.
Officials have blamed the Kurdistan Worker's Party or PKK for the bombing.
Foreign minister Mevlut Cavusoglu told reporters: "Turkish security forces continue their ground operations and air strikes against them (PKK militants). Our people should not worry. Those traitors will pay for what they did."
There have been frequent clashes between the PKK and government forces since a ceasefire collapsed last year.
Police and military outposts have been targeted in bombings by the militants.
At least 12 people were killed in attacks on Turkish forces in the mainly Kurdish southeast in the last week alone.