Rio remembers Munich Olympics terror victims
Comments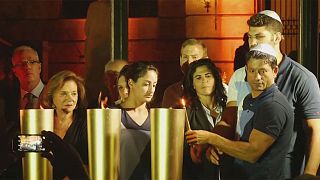 Israel had called for a commemoration for its athletes killed at the 1972 Olympics at each Games opening ceremony.
The call came as a candle-lit memorial was held in Rio de Janeiro on Sunday night in honour of the eleven Israeli athletes and coaches who were killed by Palestinian terrorists during the Games.
Families of the Munich victims have campaigned for years for greater public recognition for their dead from the International Olympic Committee (IOC).
Ankie Spitzer, whose husband was killed in Munich spoke at the memorial:
"To finally hear the names of the eleven murdered Israeli athletes read out loud inside your Olympic Village, followed by a minute of silence was the culmination of our struggle to have our loved ones recognised as members of the great Olympic family."
The night time ceremony followed the August 3 inauguration of a "place of mourning" in Rio which will now be a feature of every Olympics, with two stones from ancient Olympia encased in glass in a leafy part of the athletes village.
Back in 1972 members of the Israeli Olympic team were taken hostage by Palestinian gunmen from the Black September group. After a standoff and botched rescue effort eleven sportsmen and one German policeman were dead. The Munich massacre was the worst terrorist attack in Olympic history.