Former Aston Villa striker Dalian Atkinson dies after being tasered by police
Comments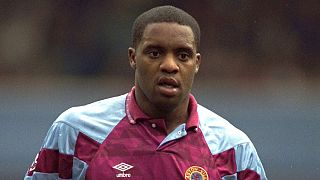 Former English premier league striker Dalian Atkinson has died after being shot with a taser by police.
Officers say they were called to the house of Atkinson's father for a 'report for the safety of an individual' in the early hours of Monday when the taser was used.
The ex-Aston Villa star suffered a cardiac arrest after receiving medical treatment.
The incident has been referred to the police watchdog, which has launched an investigation.
Tributes
Aston Villa said it was 'saddened to hear of the death' in a statement, adding 'our thoughts are with his family and friends at this terrible time.'
Others took to social media to share their memories and condolences.
Terrible news about Dalian Atkinson. Losing his life after being tasered by police. Thoughts are with this fine footballer's family. #RIP

— Gary Lineker (@GaryLineker) August 15, 2016
What shockingly sad news about Dalian Atkinson. Who can forget this amazing goal. RIP. https://t.co/zYEmzRxenP

— Daniel Mays (@DanielMays9) August 15, 2016