Ex-footballer Dalian Atkinson dies after being hit by high-voltage gun
Comments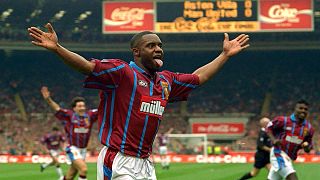 Tributes have flooded in for a former English footballer who died after being hit by a high-voltage police gun.
Dalian Atkinson was named by British media as the 48-year-old man who died in Telford, central England, in the early hours of Monday, August 15.
He played for Aston Villa, Spain's Real Sociedad and Fenerbahce in Turkey, and also had a loan spell at French club FC Metz.
Police said the incident took place as officers were responding to a call expressing 'concern for the safety of an individual'.
They said the high-voltage weapon, referred to as a Taser gun, was fired and that a man later died, despite receiving medical help.
The case has been referred to the Independent Police Complaints Commission (IPCC), which will probe whether officers acted properly.
Twitter tributes
Terrible news about Dalian Atkinson. Losing his life after being tasered by police. Thoughts are with this fine footballer's family. #RIP

— Gary Lineker (@GaryLineker) August 15, 2016
Don't feel to gud at the moment , Dalian Atkinson was a huge part of the Villa family I played with lovely kid and friend R.I.P pal Xx.

— Paul McGrath (@Paulmcgrath5) August 15, 2016
RIP Dalian Atkinson. Loved watching videos of him & always remember his great goal vs Wimbledon. My thoughts are with his family & friends.

— Jack Grealish (@JackGrealish1) August 15, 2016
Eski futbolcumuz Dalian Atkinson'ın vefat ettiği haberini derin bir üzüntüyle öğrendik. Ailesine ve sevenlerine başsağlığı dileriz.

— Fenerbahçe SK (@Fenerbahce) August 15, 2016
RIP Dalian Atkinson. You'll never be forgotten! #AVFCpic.twitter.com/eAPbAbtpJa

— Aston Villa FC (@AVFCOfficial) August 15, 2016
The wonder goal most remember Atkinson for
Dalian Atkinson scoring the first ever winner of 'Goal of the Season' in the Premier League.

R.I.P pic.twitter.com/V7t211e5Yw

— Football Funnys (@FootballFunnys) August 15, 2016