Russia's only athletics competitor suspended from Rio Olympics
Comments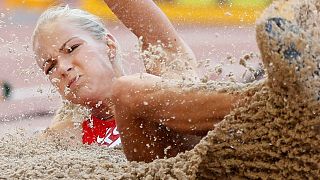 Russia's only competitor in the track and field events at the Rio Olympics has been suspended with her special eligibility status withdrawn, it was announced Saturday.
Long jumper Darya Klishina, a former European indoor champion, had been granted dispensation to compete at the Games after she was deemed not to have been tainted by the systematic, state-directed doping practices in Russia.
That eligibility has now been rescinded, according to sources close to the matter, after new evidence emerged last week in relation to the World Anti-Doping Agency (WADA) commissioned McLaren report.
"This is not a normal situation, but we anticipated it," Dmitry Shlyakhtin, the president of the Russian Athletics Federation told the R-Sport news agency. "I spoke about it, that is issue with Klishina could arise, and here it is."
He added he thought it was unlikely the long jumper's appeal would be upheld. "In general I am cynical," R-Sport quoted him as saying.
Klishina has taken her suspension to the Court of Arbitration for Sport (CAS). A decision is expected on Sunday or Monday, before the long jump competition starts on Tuesday.
"We can confirm she is challenging our decision at CAS. This is the only information we are able to give for the moment," an official from track and field's world governing body (IAAF) said.
The report, drafted by Canadian sports law professor Richard McLaren, detailed widespread doping and corruption in Russia that was supported by the Russian government following poor results at the 2010 Vancouver Games and continued until at least the 2015 world swimming championships held in Kazan, Russia.
Russia's track and field athletes were banned from all international competition last November by the IAAF because of the doping scandal. Krishna's appeal to the blanket ban was only of 136 which were approved by the IAAF.