France steps up security in Lourdes as pilgrims arrive for holy day
Comments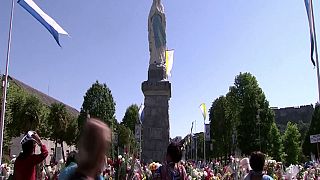 Soldiers greet pilgrims heading to the French town of Lourdes. Thousands of Catholics are arriving to celebrate the feast of the Assumption.
France is stepping up security over fears the event could be terror target following a series of Islamist-inspired attacks.
"Yes, indeed it is a tight security. The road is closed from 11.30 till 14.00 , from 6 o'clock the road is closed again. So actually there are a lot of changes," remarked one visitor.
The Catholic community is still reeling from the brutal killing of a priest in Rouen, Normandy.
Several of Father Hamel's congregation are due to attend the event to pray for his memory.
Most years the faithful gather with prayers for the sick, this year the victims of terrorism will be utmost in their thoughts.
At a ceremony ahead of the main event, the priest thanked the security personnel for watching over them.