Farah's fall, Phelps' retirement and Lochte's robbery nightmare
Comments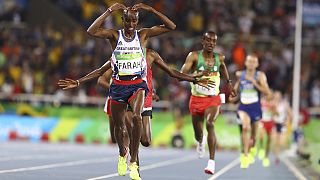 Mo Farah cemented his place in British track and field history after becoming the first GB athlete to win three Olympic gold medals.
Farah survived a trip and fall on lap ten of his 10 000 metre race to win the event for a second consecutive summer Games.
Farah explained that the thought of his daughter helped him recover from his spill early in the race.
"I got really emotional as I crossed the line because I went through a lot this year. At one point I thought the race was over but I managed to get through it. In my mind alI was thinking about was my daughter. I promised her I was going to get a medal so I wasn't going to let her down. When I crossed the line, I couldn't believe I did it. I've never been like that before," said the two-time Olympic 10 000 metre champion.
It was Farah's third olympic gold – his first two came at London 2012 where he also won the 5000m title.
He said: 'It's different. It's every athlete's dream to do the Olympics and to do it back to back is pretty amazing. London was amazing and this is even better. It was tough."
While Farah now hunts a double double in the 5 000 metres this week, swimming legend Michael Phelps says that his days in the Olympic pool are over after having won his 23rd career gold (five in Rio) and 28th medal overall.
He said: "This is it, I am done. I couldn't be happier with how I finish my career, and no better way than finishing with a gold medal, that's for sure.''
Phelps said the same after London 2012 too and most of his teammates didn't believe him then either.
If the past is anything to go by it's safe to say we will be seeing him in four years time in Tokyo putting the younger guns through their paces again.
The dark side of Rio
Unfortunately four of Phelp's teammates including Ryan Lochte – six-time gold medalist – experienced the darker side of Rio early on Sunday morning when they were held up at gunpoint and robbed.
According to the United States Olympic Committee the swimmers' ''taxi was stopped by individuals posing as armed police officers who demanded the athletes' money and other personal belongings.''