Cuba: Retired revolutionary leader Fidel Castro turns 90
Comments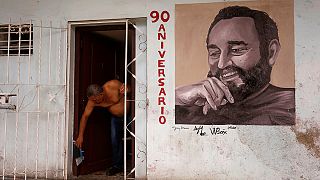 Fidel Castro is 90 today – and Cuba is celebrating!
Fidel is an example for the whole world

Shop owner
Workers at a state-run firm in Havana marked the occasion by sharing a giant birthday cake.
Other tributes include an exhibition of photographs of the revolutionary leader in Havana's grandiose Hotel Nacional, flags reading 'Gracias, Fidel', billboards citing his best-known phrases and endless stories on state media.
"Fidel is an example for the whole world, he is a large personality because of all he did for our country," said Yoelmis Mengana, a shop owner, after touring the photo exhibition.
Thousands are expected to attend street concerts over the weekend in honour of Castro, the man who toppled a US-backed dictator in 1959.
He is revered by many for freeing Cuba from US domination and bringing universal healthcare and education, but loathed by others for his long grip on the island.
A decade after ill health forced him to step down, the elderly revolutionary now has the honorific title Historic Leader on the Communist-ruled island.
History review -- As Fidel Castro prepares to turn 90, check out the key dates in the polarizing giant's long life pic.twitter.com/WUaXO4cgAV

— AFP news agency (@AFP) 11 août 2016
The history of Communist Cuba's founding figure is undeniably part of world history too – from Castro's 1959 revolution, helped by Che Guevara and others, to the impassioned, hours-long speeches during nearly half a century of rule and the changing Cuba that has emerged now that Fidel's influence has waned.
This has been marked by market-style reforms introduced by his brother, President Raul Castro, who officially took the reins of power in 2008 and a previously unimaginable detente with arch-foe, the United States.
An iconic figure who still has moral authority among many residents, especially older generations, Fidel now lives in relative seclusion but occasionally writes opinion pieces or meets visiting dignitaries.
Many will be wondering if a rare public appearance might mark his big day.