Wanted: Turkey issues arrest warrant for celebrated football player
Comments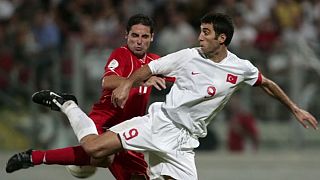 An arrest warrant has been issued for one of Turkey's most celebrated football players – former international striker Hakan Sukur.
A seizure of his assets has also been ordered, as part of an investigation into last month's failed coup.
Sukur, a former member of parliament, lives in America. His father has already been detained.
Prosecutors accuse Sukur of "being a member of an armed terror group," a reference to the organisation of the US-based Muslim cleric Fethullah Gulen, whom Ankara says was behind the abortive putsch. Gulen denies the accusation.
After football, Sukur went into politics and was in 2011 elected to parliament for President Recep Tayyip Erdogan's AK Party. He resigned in 2013 after a corruption probe that targeted Erdogan and his innser circle, siding with the movement of Gulen.
Tens of thousands of soldiers, officials and others have been dismissed or arrested in Turkey since the failed coup.
Sukur is one of a number of people still being sought by Turkish authorities.
"One-hundred-and-sixty-two soldiers are at large, including three military attaches. We are searching for them," said Fikri Isik, Turkey's defence minister.
"Three military attaches are abroad. One of them is the military attaché in Bosnia Herzegovina. The other two are the military attaches in Greece. We know that they went to Italy."
American officials have said that a Turkish military officer on a US-based NATO assignment is seeking asylum after being recalled by the government.
There is a fear that President Recep Tayyip is using the failed coup and purge to tighten his grip on power.