Rio Olympic pool still green, despite promises to return water colour
Comments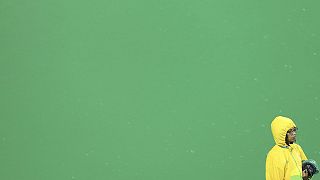 Rio organisers temporarily closed Olympic diving pool to treat the green water on Friday, but later reopened the venue for the women's three metres springboard heats despite no improvement in water colour.
The diving pool, which earlier in the week turned green, becoming the subject of jokes and yet another issue for scrambling Games officials, was again closed on Friday morning for diving practice as technicians continued to treat the water.
With the pool closed for alkalinity tests, competitors were forced to perform dry-training at the venue, diving off platforms into foam blocks and using trampolines or harnesses. Meanwhile, the adjacent pool used for water polo and has also started to turn a murky green colour.
Organisers added the pool will also be reopened for training at the venue this evening.
"We have learnt that chemistry is not an exact science. Some things, as you can see, have gone on longer than expected," spokesperson Mario Andrade said at a news conference, despite promising to return the colour of the pool by Wednesday evening.
Swimming's world governing body, FINA, said the colour change was caused by the failure of organisers to adequately treat the water after the tanks at the venue ran out of the necessary chemicals.
The organisers responded by adding more chlorine to kill algae and thus return the water colour to blue, but water polo athletes then complained of stinging eyes.
"This was because our first reaction to the water turning green was to use more chemicals," Andrada said. "We reduced immediately the quantity (of chlorine)."
Andrada maintained the green water posed no health issues for competitors and added the pools were being tested in accordance with the International Olympic Committee's directives.