Thailand steps up security after attacks
Comments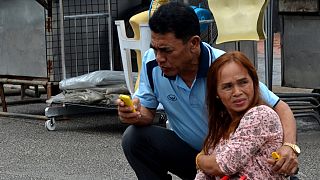 Offering words of consolation, Thailand's Tourism Minister visits those wounded in a string of bomb attacks.
One survivor told reporters about his lucky escape. Italian Andrea Tazzioli had been just one metre away from the street vendor who died when a bomb went off at the seaside resort of Hua Hin.
"There was blood, people shouting, others injured, one person dead, others shouting, others running away, others crying, others fainting, others who didn't know what to do. Someone helped me (…) then the police arrived and I was taken to hospital."
Bomb sniffing dogs scour the beaches at popular tourist destinations, as Thai authorities step up security at airports and railway stations. Foreign embassies are warning people to 'exercise extreme caution'.