Explosions rip across Thailand, killing at least four
Comments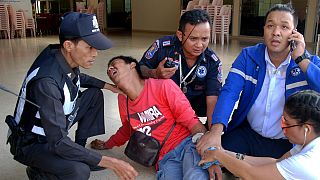 A series of explosions hit several of Thailand's most popular tourists destinations on Thursday evening and Friday morning, killing at least four people and wounding dozens.
If you observe the bombs, they are not targeted to kill people but to send a message

Interpol's head in Thailand
A number of those wounded are said to be foreigners.
No one immediately claimed responsibility for the attacks, but police say they do not believe the attacks are linked to international terrorism, but rather to local dissidents who oppose Thailand's military rule.
The blasts were in several localities including the upmarket resort of Hua Hin, south of Bangkok.
Twin explosions there on Thursday night killed a local food vendor and injured around 20 people, including Europeans. The seaside resort was hit by further blasts on Friday morning, with reports of at least one more person being killed there.
Anti-junta and anti-royal motive speculation
Hua Hin is home to the Klai Kangwon royal palace, which translates as 'Far from Worries Palace', where King Bhumibol Adulayadej, the world's longest reigning monarch, and his wife, Queen Sirikit, have often stayed in recent years.
More explosions rattled the province of Surat Thani, killing a municipal worker, and the resort island of Phuket, without any loss of life.
The explosions come on a public holiday to mark the birthday of Queen Sirikit, and just days after the country voted in a referendum to accept a new constitution that critics say will give more power to the ruling junta.
#NEWSGRAPHICUPDATED map of Thailand where a series of bombs have exploded AFP</a> <a href="https://t.co/Tc4mcHMJXO">pic.twitter.com/Tc4mcHMJXO</a></p>&mdash; AFPgraphics (AFPgraphics) August 12, 2016
Thai authorities increased security at tourism spots, airports and on public transport in Bangkok, while Thai junta chief and Prime Minister Prayuth Chan-ocha expressed frustration about the motives for the attacks.
"Why now when the country is getting better, the economy is getting better, and tourism is getting better? We have to ask why and who did it," he told reporters.
Sending a message
The head of Interpol in Thailand, Police Major General Apichat Suriboonya, said it appears the bombs were meant more to send a message rather than cause death and destruction. "But the thing is, if you observe the bombs, they are not targeted to kill people but to send a message to some groups. It could be a domestic issue."
Small bombs have been used frequently for attacks during periods of unrest over the past decade of political turmoil but have been rare since Thailand's military seized power in a 2014 coup.