Deadly bomb blasts hit Thailand
Comments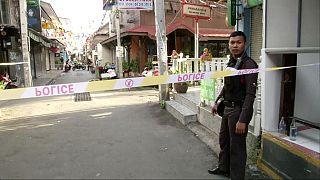 Thailand has been hit by multiple, deadly bomb attacks.
At least four people are reported killed and dozens more injured, including foreigners, in the wave of explosions on Thursday and Friday.
The blasts hit several localities including the upmarket tourist destination of Hua Hin, south of Bangkok.
Twin explosions there on Thursday night killed a local food vendor and injured around 20 people, including a number of Europeans. The seaside resort was hit by further blasts on Friday morning, with reports of at least one more person being killed there.
The bombs went off as tourists flocked to Hua Hin for a long weekend celebrating the birthday of Thailand's Queen Sirikit.
Further south, another explosion killed a municipal worker in Surat Thani. And a bomb at a market in the southern province of Trang is said to have left one person dead.
Small blasts also hit the resort island of Phuket, without any loss of life.
#NEWSGRAPHIC: Series of bomb blasts around Thailand Thursday and Friday pic.twitter.com/RQJjopvMyw

— AFP news agency (@AFP) 12 août 2016
It is not known who was behind the blasts but the head of Thailand's military junta has denounced what he called an attempt to 'spread chaos'.
The latest bombings came almost a year after an attack on a Hindu shrine in central Bangkok killed 20 people and wounded more than 120. Thai police have accused two ethnic Uighur Muslims over that attack.