Man climbing Trump Tower in New York using suction pads is captured by police
Comments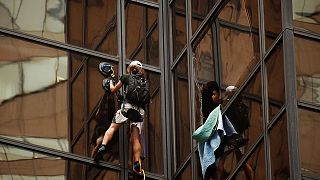 A 20-year-old man who scaled the Trump Tower in New York using just suction cups was finally pulled inside the building by police who removed a glass window to get at him.
The climber started from a 5th floor terrace accessible to the public and got as far as the 21st floor of the 68-storey building. He spent almost three hours scaling the building, much to the bemusement of onlookers.
"We were up in the public garden in the top floor of Trump Tower and it was just us and this guy who was jumping around and acting all weird and then he took his basketball shorts off, but he had more shorts underneath and all these wires, and then he just took off sprinting. We thought he was going to base jump and then he stood on the very end of the ledge and started applying the suction cups," one witness said who saw the start of the climb.
#Trump Tower climber lets the New York press have that much more fun. pic.twitter.com/jqG7fwiQIV

— Sharon Hoffmann (@Sharonakc) August 11, 2016
In a video uploaded to YouTube on Tuesday the intrepid climber said he was a Trump supporter and an "independent researcher" who had wanted a private meeting with Donald Trump to discuss an unspecified "important matter".
Police said the man was undergoing psychiatric evaluation and would be arrested.
A little more research on his part might have revealed that Trump was in fact more than 800 kilometres away in the state of Virginia at the time of the climb.
Police closed several streets near the building in Manhattan and put out an inflatable pad. Officers said he was "clearly a stunt guy" and they were not worried he was there to cause harm.