Wildfires in Portugal's Madeira Island force hundreds from their homes
Comments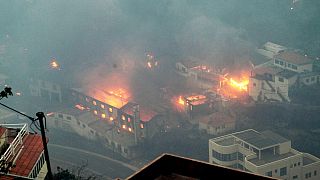 More than 400 people have been forced to leave their homes on the Portuguese island of Madeira because of wildfires.
Around 200 people needed medical treatment, mostly for smoke inhalation.
The island's dense woodland and steep hills made it hard to put out the flames, which were kept fuelled by high winds.
Neighbours worked together to try and beat back the fires, but for many they could only stand and watch as their homes went up in flames.
One woman described her experience tearfully: "It was very complicated. Everybody was fleeing. There were too many flames all around. We ran away and them we came back. We took the cars away from here. And then we started to help each other. Everybody is cooperating now."
At least 27 homes have been destroyed by the fires.
Officials say that a wildfire getting close to the capital Funchal is now under control.
On the Portuguese mainland, wildfires have been raging for several days and seven large blazes are still out of control.