Turkey / Russia : Relations on the mend
Comments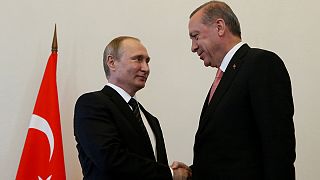 A meeting between the Russian and Turkish Presidents seems to have gone some way towards mending their bilateral relations.
We all share the will to overcome these difficulties in the interests of our citizens

Russian President
[no comment live] Putin meets Erdogan in St Petersburg https://t.co/8vjdI2LkoL

— no comment TV (@nocomment) August 9, 2016
The Breakdown in Relations
Erdoğan's day trip to St Petersburg is his first foreign visit since the failed coup in Turkey last month and the ensuing purge which has given rise to serious diplomatic tension between Ankara and its Western allies.
Since last November, when Turkey shot down a Russian fighter jet near the Syrian border killing one Russian pilot, the two countries have been at odds.
Following the incident, Russia imposed trade sanctions on Turkey and the number of Russians visiting Turkey fell by 87% in the first half of 2016. At the time, Putin described it as a 'stab in the back by supporters of terrorism.' President Erdogan said that Turkey had warned Russia about crossing into its airspace and he later apologised for the incident.
At a Press conference after their meeting, Russian President, Vladimir Putin admitted:
"Yes, we have been through some very testing times in the relations between our two states, but we all share the will to overcome these difficulties in the interests of our citizens."
Meeting with President of Turkey Recep Tayyip Erdogan RT_Erdogan</a> <a href="https://t.co/g8lCfy1LSs">https://t.co/g8lCfy1LSs</a> <a href="https://t.co/JpjkSFiDx8">pic.twitter.com/JpjkSFiDx8</a></p>&mdash; Vladimir Putin (PutinRF_Eng) August 9, 2016
Bilateral Trade
President Erdogan went on to mention the trade targets between Russia and Turkey. He revealed :
"Our bilateral trade was at $35 billion, but with the events (of last November) it has dropped to $27 billion. However, our goal is to reach $100 billion of trade and we are determined to achieve our goal".
Erdogan, Putin talks expected to boost trade relations https://t.co/49Zqg9OOEqpic.twitter.com/uEpDutd8tK

—

ANADOLU

AGENCY

(

ENG

) (@anadoluagency) August 9, 2016
Turkey realigned
Both leaders seemed optimistic about the future of joint energy projects like the Akkuyu nuclear power plant and the construction of Russian gas pipelines through Turkey. Turkey diplomatically distancing itself from the EU, may have presented Mr Putin with an opportunity to get closer to Turkey.