Michael Phelps's purplish circles and the ancient practice of cupping
Comments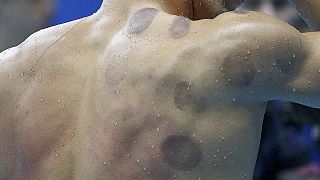 US swimmers Micheal Phelps may have won his nineteenth gold medal of his career, but many people seem to be more interested in those brown purplish circles on his body.
The marks show that the swimmer underwent treatment using the ancient Chinese practice of cupping.
Acupuncturist Erika Weber offers cupping to her clients.
"An athlete can benefit from cupping because it moves blood stagnation in the muscle layer," says Weber. "When there's blood stagnation, it causes range of motion issues, inflammation, so this helps bring it to the surface of the skin, so free flow of blood can move through the muscles and help move muscles more freely."
Some doctors say the increased bloodflow from cupping allows the body to work better to resolve any issues.
The practice also popular in Hollywood. Justin Bieber, Gwyneth Paltrow and Jennifer Aniston have all been spotted with deep red circles on their bodies.
Justin Bieber sports bruises from 'cupping' therapy during Bondi swim http://t.co/qfUdDqalbQpic.twitter.com/SaZHGNEens

— Tima.•:¨`:•. .• (legilex) July 1, 2015