Bolt aiming for the 'triple-triple' in Rio
Comments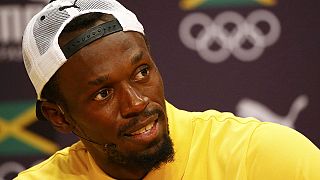 Usain Bolt says he wants to break his own 200-metre world record, hoping to run a time under 19 seconds.
In Beijing in 2008 and London in 2012, the six-times Olympic champion won the:
100 metre gold
200 metre gold
4×100 metre relay gold
Speaking in Rio, Bolt said he is seeking to secure a "triple-triple" in all three events for the third, and final, time.
"I think that is one of my biggest goals and I think I want to go out there, I think it is the hardest one to try and do, to break the world record and actually to try and run sub-19 seconds, so I think that is my focus and that is what I really want so I am just going out there to do my best," Bolt said.
Rio will be Usain Bolt's final Olympic games 'for sure' https://t.co/y6eJnHwTEK

—

TIME

.com (@TIME) August 9, 2016
He also confirmed that Rio 2016 will be his last Olympics.
Doping – "people should have faith"
Bolt also had to face up to questions about how and why fans could have any faith in athletics after the battering it has taken on the doping front in the last 18 months.
"I think we are going in the right direction," he said. "People should have faith."
"We are weeding out the bad ones and I personally think we are on the right track."
"We have had to go through a rough time before the good times. But in a few years, the sport should be clean and I look forward to that."
Injured
#RIO2016 Usain Bolt dances samba during Jamaican Olympic Association and Puma press conference. Photo photogator96</a> <a href="https://t.co/jTVzLKxUlF">pic.twitter.com/jTVzLKxUlF</a></p>&mdash; AFP Photo Department (AFPphoto) August 9, 2016
Bolt got a hamstring injury earlier this season.
He has only run one 200-metre race since, finishing first at the Diamond League meeting in London last month.
Since then, he says he has been working well with his coach.
"It's been going great. I went back with my coach and analysed the race, he said 'it was not good, we need to work on it'. So we did a lot of work on the turn and mostly on speed endurance and stuff," he told Reuters TV.
.usainbolt</a> sambas his way out of his <a href="https://twitter.com/hashtag/Rio2016?src=hash">#Rio2016</a> press conference <a href="https://t.co/oDuLItbGp4">pic.twitter.com/oDuLItbGp4</a></p>&mdash; Press Association (PA) August 9, 2016
In light of the missed weeks of training, super-fast time may be unlikely for Bolt in Rio.
However, as always, he remains supremely optimistic.