Director of British hospitality firm arrested in Rio over ticket fraud
Comments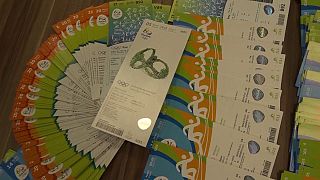 The director of a British corporate hospitality company and his Brazilian translator have been arrested in Rio de Janeiro on suspicion of ticket touting and could face up to two years in jail.
Irishman Kevin James Mallon and Brazilian Barbara Carnieri worked for THG Sports. They are accused of criminal conspiracy, ambush marketing and facilitating touting.
Mallon was caught red handed trying to sell tickets for the Olympics opening ceremony at highly inflated prices near the Olympic park. Police also found more than 1000 tickets in his hotel room, some of which were fake.
Investigating police officer, Ricardo Barbosa, said: "Those tickets were being sold through the company's website, so we believe all those tickets were already sold. In the moment of searching and seizure… the tickets were in closed envelopes ready for sending to the buyer."
During the 2014 World Cup, the chief executive of THG Sport was detained for the same offence, but allowed to leave Brazil.
Police say around 40 ticket touts have been arrested on the streets outside the Olympic Park in recent days.