'Yes' or 'No': Thailand votes on junta-backed constitution
Comments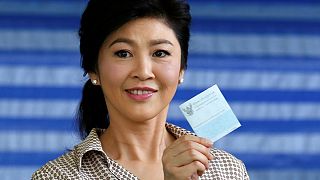 Two years after the military seized power in Thailand, voters were being asked on Sunday to approve a new constitution which critics say could extend the army's influence well into the future.
The ballot is the first major popularity test for the junta, led by Prime Minister Prayuth Chan-ocha, who has suppressed political activity since the coup.
"Come out because today is important for the future of the country," Prayuth told reporters at a polling station in northwest Bangkok, urging a record voter turnout.
"Please don't think it doesn't matter if you don't come…that it does not count whether you come to vote or not. This is for the future of the country. It is your duty and part of democracy, of an internationally-recognised process."
Thais vote on new constitution that could dilute democracy. https://t.co/BEKZHeKtUu

— The Associated Press (@AP) 7 août 2016
The military has said the proposed constitution will pave the way for a general election in 2017, and will ensure clean, stable politics in a country rocked by years of turmoil.
But Thailand's first female premier, Yingluck Shinawatra – ousted days before the 2014 coup, banned from politics for five years and now on trial – rejects the new constitution as undemocratic.
"I think today is a very important day for Thailand because this is the way of democracy so make sure people understand the content and then share your opinion," she said, voting on Sunday and urging others to vote.
Under the charter, an unelected Senate, appointed by the junta, with seats reserved for army commanders, would check the powers of elected members of parliament during a five year transition period from military rule.
The junta has banned all criticism of the constitution and authorities have detained and charged dozens of people who have spoken against it, including politicians and student activists.
Thailand's referendum is only the beginning of a long struggle for the country's student activists https://t.co/5W1crlH5Rg

— TIME.com (@TIME) 7 août 2016
Amnesty International says the junta has created a chilling climate ahead of the vote through pervasive human rights violations.